One of the first relevant activities of ACANTO has been a clinical workshop organised in the premises of the hospital of GETAFE.
This was a very i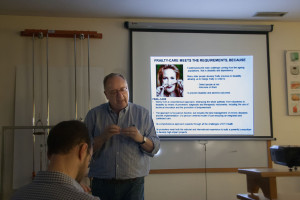 mportant opportunity for the technical and the medical teams of ACANTO to know each other, set the foundations for a fruitful collaboration and have an in–depth discussion of the requirements of the FriWalk, in the perception of the doctors. The technical team has elaborated the input and presented the physicians a survey of the possible options, using as a basis the cWalker developed in the DALi project (www.ict-dali.eu). During the meeting, the physicians have offered a practical demonstration of the current state of the art of the diagnostic and of the therapeutic tools that they use in their daily practice.  Prof. Rodriguez Mañas offered an exhaustive overview of the current state of the art in geriatric research, with a particular focus on the themes of active ageing and prevention of traumatic events such as falls.
Following up this meeting we have decided to quickly produce a first prototype of the walker, which will be deployed in Madrid in order for the medical team to further explore the opportunities of this technology.
Luigi Palopoli